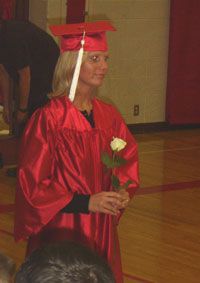 My youngest sister, Erica, graduated high school today, which seems absolutely unreal to me. I still clearly remember coming home from school the first day she was home from the hospital. I was in third grade, and she was in her first week of being alive.
When she was a baby, I got a kick out of watching G.I. Joe with her. She'd sit in her little baby seat and I'd lie on the floor beside her, watching her jump at the explosions. When I'd feed her with her bottle, I'd put my mouth on the other end like I was drinking it too, and she'd either giggle or get mad that I appeared to be stealing her milk.
She used to sit on the kitchen table on cool whip containers, and I don't remember why. I just remember coming into the kitchen and she was sitting up there, just giggling to herself.
Even as I write this, I just keep thinking of more and more great moments from her childhood. But anyway, she graduated today, and my dad got to give her her diploma (and a hug), which drew some "awwwww"s. We convinced her that even though Monica and I were too stupid in our youth to want dad to give us our diplomas, it's something that she'd wish later on she'd let happen. I know that dad wanted to do it, so I'm glad that finally the third kid was smart enough to let it happen.
Erica's party was yesterday at my parents' newly remodeled house, which was met with rave reviews. Since I can't really cook or decorate a table, I was in charge of taking pictures. I took over 150, but a lot of them were of Miqaela and Melany, Monica and Nolan's daughters. Those two stole the show, especially Melany.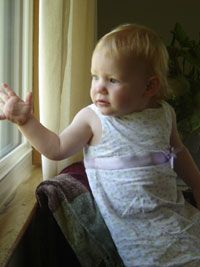 While Miqaela spent a good part of the afternoon playing in the sandbox, Melany colored in coloring books, wandered around staring at strangers in the kitchen, and played with and fed graduation cake to the cats on the deck.
Maybe it's a short attention span, but Melany is just super inquisitive and always roaming around looking at things. She can be a handful in that way sometimes, but it's hard to really get upset when she's just so innocently curious about everything. She also really loves Casey (the yellow lab) and all the farm kittens. She gets really excited when she gets to play with them.
Miqaela knows when she's being upstaged, though, and the two of them spent the end of the party showing off in the rocking chair in the living room. Miqaela has known from an early age that everyone thinks it's cute when she hugs Melany. Depending on her mood, Melany will usually either hug back, or grab a handful of Miqaela's hair and investigate it.