Video – Documentaries
spelunking under the advertising department
This was created entirely for the amusement of those involved. It was actually shot back in the early days of 2003 but the footage was misplaced until it was discovered and then edited in mid 2007.
Subject-wise, itt's pretty self-explanatory. There is some harsh language, so be advised if you are watching around sensitive ears.
thank you, masked man
producer / director / editor
in production
a documentary on real-life superheroes – people who put on costumes and fight crime.
This thing has been in various stages of production since 2003, but after completing the last of my research trips last summer, it is officially – finally – in post-production.
the heel and the face
producer / director / editor
with Tim Hanneman, Josh Jelden, Nathan Wagner and Chris Wood
narration by Nathan Wagner
30 min / DV / 2003
A story of the many levels of drama in professional wrestling. Features footage from the first and final live event of Omaha wrestling promotion Pro Wrestling's Finest and interviews with wrestlers Jayden Drago, Christian Moore and Sonjay Dutt.
Part 1:
devil with a blue rav 4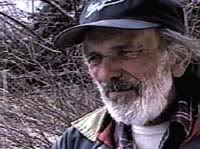 producer / director / editor
4 min / DV / 2003
A short documentary on Kermit Keeshan, a man who lived in his van in downtown Lincoln.
Kermit passed away in November 2006. I never was too pleased with this project, but one thing I think it does well is capture Kermit's mischievous personality.
fiberglass men: life, death and resurrection
producer / director / editor
with Karl Houfek and Lisa Lightner
15 min / DV / 2001
This documentary is about rise, fall and rise of roadside fiberglass creatures, marking their path from advertising tools to trash to post-modern pop-culture icons.
It features the story of the Umpire in Ryan, Iowa – a converted Happy Chef. Also included are the Lee's Chicken, Sinclair Dinosaur and Muffler Man.
nebrasquatch!
call it a work in progress
It's been on hold for about five years now, but I still hope to one day finish my documentary on the Nebraska sasquatch. At the very least, I'll make a website about it. There are some good stories sitting on those tapes and in those binders of news clippings.