this is the first installment in my countdown of my top 5 biggest letdown albums
5. Suede – "Head Music"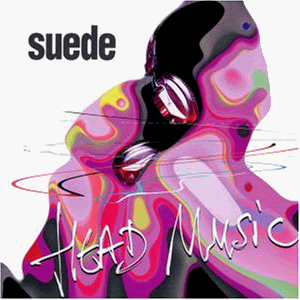 I didn't much care for Suede until Dog Man Star came out, at which point I was able to go back and get into their self-titled debut, which I couldn't much get into at first. To this day, I still think those two albums are amazing, DMS especially, and I love the way Bernard Butler's guitar sounded back then.
I was disappointed to learn when he left the band, but even though Coming Up was a notable progression in their sound, I still found it to be satisfying and worth waiting for. I remember that a friend had made me a mix tape with "The Beautiful Ones" on it, and I refused to listen to that side of the tape because the album hadn't come out yet and I didn't want anything ruined for me.
The band's style had gotten significantly brighter, and it worked thanks to some high-quality pop songs on the album. Songs like By the Sea even helped bridge what would have been a more notable gap from the Dog Man Star days.
When Sci-Fi Lullabies came out, I was living in England and paid the ridiculous 30-pound price tag for the double album and loved most of it. Any b-sides collection is going to have some stinkers, but Suede was one of those bands that wasn't afraid to put a fantastic song on the b-side.
All of this leads up to May of 1999. I was a music director at KRNU by that point, and I was very excited that a new Suede album was coming out. KRNU hadn't had any Suede in the library for years, and I was in a position to change that. I'd ordered the advance single of Electricity from the UK and played it on my show quite a bit, but it seemed almost like going through the motions. The NME had run some parodies of Brett Anderson's lyrics, and I felt like I was listening to some of those put to music. I still held out hope that the album was going to be great, though.
I added the album, attempting to convince myself as much as the listeners that it was worth paying attention to. I eventually gave up, and thankfully after I left, someone pulled the album. I was just scanning through the songs on the album, and now eight years later, all I really remember about it was the awful title track with its refrain of "Give me head / give me head / give me head music instead."
I don't even know what happened to my copy of the album. I remember that I gave away my copy of the Electricity single. I was just surprised to discover that Suede had released another album in 2002 entitled A New Morning. Head Music rubbed me so wrong that I just stopped caring about what they were up to and remained content with what they'd done.