this is the third installment in my countdown of my top 5 biggest letdown albums
3. Matthew Sweet – "Blue Sky on Mars"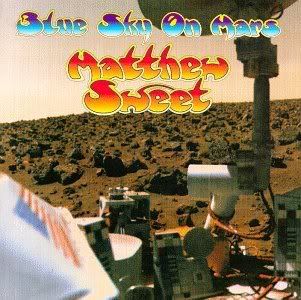 Matthew Sweet is like this icon of "alternative" music for me. In the early 90s, when KKNB-FM switched from B-104's pop music format to "The Planet," I discovered this radio station that played all this great 80s music I'd liked from my childhood – Tears for Fears, Duran Duran, Talking Heads – and this strange new music that I had never heard before. I later learned that this format was called "alternative" music.
I identify Matthew Sweet with the Planet so much because every time he came back to his hometown of Lincoln, they would promote it like crazy. They also pushed Altered Beast like mad, and Time Capsule ended up becoming one of my absolute favorite songs of all time.
I would listen to Girlfriend and Altered Beast all the time, undoubtedly making my friends sick of Matthew Sweet in the process. When he came to the Pershing in the summer of 1995, I was so excited to go to that show even though he was opening for Soul Asylum. There was a meet and greet at Gateway Mall before the show, and I got him to autograph my copy of Girlfriend. I was just the biggest geeked-out fan.
That probably peaked when I waited on the phone to speak with him on Modern Rock Live. I remember asking him what his touring plans were because it was the best question I could come up with. I think my motivation was that if you got on the air, you got a free autographed copy of 100% Fun. So even though I was eagerly anticipating that album, I waited until I could get my defaced version.
It was just so cool being able to see the video for Sick of Myself on MTV. I felt a tiny bit of ownership in his success, having been a loyal fan for several years and spreading the good word at every opportunity. There was this sense of calm, like "Finally, we of the assembled Matthew Sweet fans, can relax now that he has broken through into the mainstream. It's all super rock stardom from here on out."
I remember walking out of Best Buy with my copy of Blue Sky on Mars. By this point, The Planet had switched to adult contemporary music and the only quasi-alternative radio outlet was the jock rock station The Edge. Thankfully, even they gave a little play to lead-off single Where You Get Love. It was pretty catchy so I was really excited for the new album.
One of the things I really loved about Matthew Sweet's sound was actually something that turned me off at first, and that was the rather strange guitar solos from musical partners Lloyd and Quine. There was none of that on Blue Sky, and I later learned that Sweet had ditched the two so he could solo by himself. It was a bad call. I couldn't stand the album and had to face the realization that Sweet had done himself in.
It was a little easier at that point to admit to myself that I really hadn't liked 100% Fun all that much either. His music had peaked with Altered Beast for me, but I just so badly wanted him to be this huge breakthrough pop star that I was willing to deceive myself. Supposedly he's put out some decent stuff since then, but that album just killed the joy for me and comes in at #3.