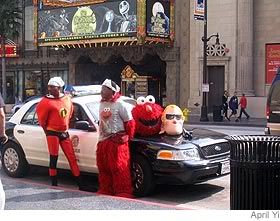 Long-time readers of this blog may remember my encounter with Elmo from March. What started out as an innocent encounter for the purposes of my niece's Elmo-viewing pleasure turned into something much more bizarre.
Well, in the past few days, you may have seen a story making the rounds about Elmo getting arrested.
Just know that justice still lives on, even in the cracked, dirty streets of Los Angeles.